CHINA MARMOGLASS CO.,LIMITED is the direct and leading manufacturer for Crystallized MarmoGlass and NanoGlass products in southeast of China, we have specialized in manufacturing crystallized glass stone since 2000. China Marmoglass Co.,Limited produce quality Marmoglass and Nanoglass for a range of Applications such as Kitchen Countertop,Bathroom Vanitytops,Flooring,Walling,facade,column,windowsills for both Interior and Exterior place.
China Marmoglass Co.,Limited offer large slab size 3000x1600mm,2800x1600mm for thickness slab 10mm to 30mm. We have all types of crystallized Marmoglass E Nanoglass series from thickness 6mm to 30mm ( Marmoglass, Marmoglass Porous, Nanoglass -NANO2017 NANO3, Mincrystallized Glass Stone).
- Marmoglass(Marmo Glass), also named Glass Marble, Neo-Paris, Crystallized Glass, Glassos Marble.
- Nanoglass(Nano Glass), also named Nanostone, Crystallized Nano Glass, Nano Crystallized Glass.
- QuartzStone(Artificial Quartz), we focus on Super Pure White Color QuartzStone 6mm, 20mm,30mm.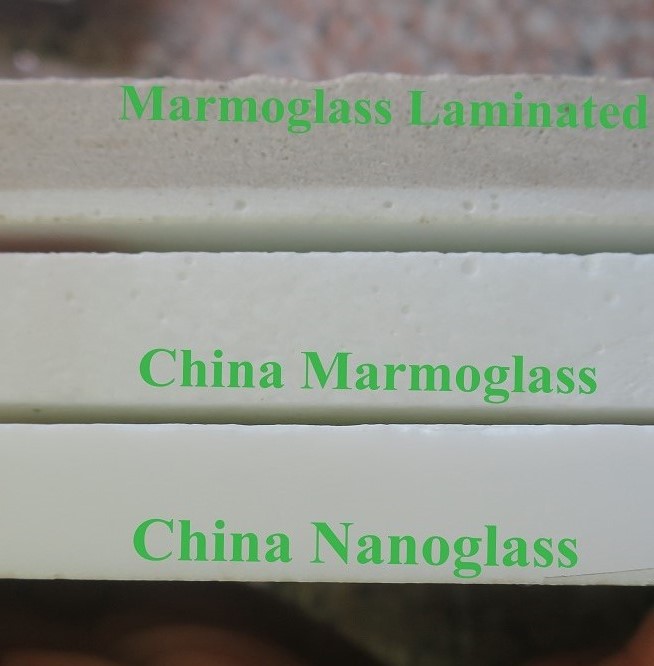 Our factory is located in Quanzhou Economic Technology Dvpt. Zone, which is 90 kilometers far from xiamen port and xiamen airport. Our products cover from Slab, Tile, Skirting, Steps, Countertop, Tabletop, Riser , Column and so on. With an area of over 20,000 square meters, the company has more than 10 years' production strength and established good business relationship with customers from Brazil, Portugal, UAE, Poland, Saudi Arabia, USA, Italy, UK, Mexico, France, Germany, Spain, Thailand, Greece, Cyprus, Angola, Bahrain and so on.
In our workshop, We have advanced machines with high-technology to make the biggest slab size of 3000mm x 1800mm x 30mm (120"x72"x1 1 /6" ) / 3200x1600x20mm and minimum thickness of from 6mm at panel 2440x1240x6mm. With our advanced production equipment and expert technicians, we passed the strict ISO9000 Quality System Attestation and gained customers' trust at home or abroad with new & superior quality, reasonable price and good reputation. Our professional workers are rich in experience of cutting, polishing, drilling, lamination, packing, loading and other finishing. Not only Xiamen Port, We now also have big warehouse/showroom near Shenzhen Port, Foshan Port, Tianjin Port, Jiujiang Port, which we can ship cargo very fast.
In our office, We have experts team with technical background. They have years of experience in both production and trading. We successfully combine western working style that makes a smooth cooperation possible and avoids communication problems as well as cultural misunderstandings.
Quality not means the production itself, also packing, marking, loading and transportation. We make sure that we will provide you not only perfect products, but also the best service.
CHINA MARMOGLASS CO.,LIMITED have improve out international relationship with other, making our company growing more and more, we want to make your needs more easy to you, call us now to get one of the best prices worldwide !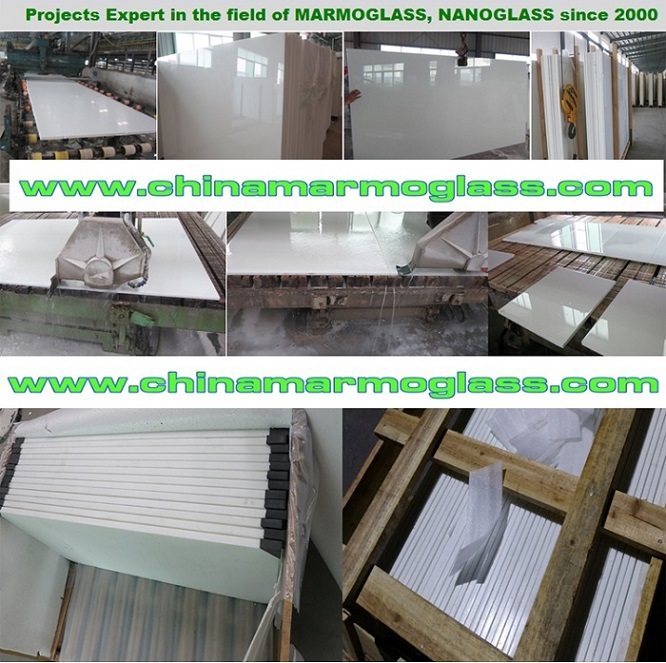 中国微晶石材发展有限公司CHINA MARMOGLASS CO.,LIMITED是福建省内专业从事新型建筑材料----微晶石材研发和生产的大型高科技企业。
中国微晶石材发展有限公司CHINA MARMOGLASS CO.,LIMITED工厂地址位于福建泉州市经济技术开发内,现占地面积2万㎡,员工300多人,总投资6,000万人民币,年产"中晶石"牌微晶石材60万㎡。中国微晶石材发展有限公司CHINA MARMOGLASS CO.,LTD引进先进技术及机械生产设备,生产的微晶石材具有颜色白、平面度好、纹路美观均匀的优点。公司具备了全套的从原料挑选到规格板材、弧板的切割、抛光、定厚、打蜡、倒角,裁边、磨边、挖孔、仿型等加工机器。我们可以加工工程的各种特殊加工如圆柱,台面板,弧型台阶,拉槽钻孔等, 可以对表面进行亚光,喷砂,荔枝面加工. 公司拥有先进的生产设备,专业的技术人才,通过ISO9001:2000国际质量管理体系认证,制造出全新、优良的品质,合理的价格,良好的信誉,赢得了国内外客户的信赖。产品销售全国各地和出口美国,巴西,意大利,英国,法国,葡萄牙,新加坡,澳大利亚等60多个国家。同时,公司也承接国内银行酒店商场工程、家庭居室别墅的装饰装修。这几年,公司与厦大学、华大学等国内多家高等院校合作,继续研究和开发各种新型微晶玻璃产品,并努力实现微晶玻璃生产的产业化、规模化,现已发展成同时拥有3条有孔微晶石生产线和2条无孔纳米孔微晶石生产线。
公司专业制造:6mm–30mm厚度的微晶石材。常年有10mm, 18mm, 20mm, 25mm, 30mm大板库存.
中国微晶石材发展有限公司CHINA MARMOGLASS CO.,LIMITED真诚欢迎国内外客户参观指导,共同发展合作.
联系电话:0592-5035063 传真号码:0592-5077063 手机Whatsapp: 13950111631
邮件:info@chinamarmoglass.com